Stoic is an independent game developer based out of Austin, Texas, formed in early 2012.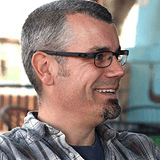 Arnie Jorgensen
Arnie began his career working on legendary comics such as Justice League for DC Comics. Eventually he became passionate about creating games, putting his gifts to work on such titles as Star Wars: Galaxies and The Old Republic as lead concept artist. In his shift to focus on The Banner Saga, his art goes beyond concept and directly into the game.
John Watson
John Watson has been programming since he was 6. After doing some work on the Hubble at NASA he decided to apply his vast abilities in the games industry, eventually bringing his superpowers as lead combat programmer on The Old Republic to Stoic.
Drew McGee
Drew originally worked with the founders of Stoic on Star Wars: The Old Republic. He has written short stories, a children's book, the narratives for several indie games, and a blog chronicling his adventures around the globe. For his independent and random insights into various aspects of life, games, and travel, follow him @DrewMcGeeWrites
Contact The Team
For support needs please email us at:
For business inquiries please email us at:
For press inquiries please email us at: