The dredge are an ancient race of enemies who have clashed with men and varl since earliest memory. They were pushed into the icy wastes of the north centuries ago through the weaving ways of the Valka and have been kept largely at bay by the varl, but they're starting to reappear again in number…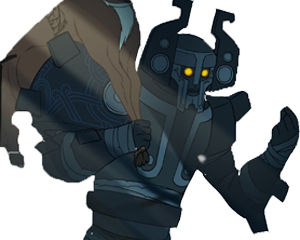 Dredge in-game represent the largest combat challenge as you will often be pitted against these colossal stone-like beings with strength that far outmatch even the most heroic vikings under your banner. Deploy the characters strategically and lead your caravan wisely as it's often times brains and not brawn that may put you in a position to help them survive.
You'll encounter many varieties of dredge in your journeys within The Banner Saga. Get prepared for combat on January 14th 2014.